Des :
Turquoise: Turquoise is found in only a few places on earth, and the world's largest turquoise producing region is the southwest United States. Turquoise is prized for its attractive colour — most often an intense medium blue or a greenish blue — and its ancient heritage. Turquoise is used in a great variety of jewellery styles. It is perhaps most closely associated with southwest and Native American jewellery, but it is also used in many sleek, modern styles. Some turquoise contains a matrix of dark brown markings, which provides an interesting contrast to the gemstone's bright blue colour.
$237.99



Des :
Quartz: Quartz refers to a family of crystalline gemstones of various colours and sizes. Among the well-known types of quartz are rose quartz (which has a delicate pink colour), and smoky quartz (which comes in a variety of shades of translucent brown). A number of other gemstones — like Amethyst and Citrine — are also part of the quartz family. Rutilated quartz is a popular type of quartz containing needle-like inclusions.
$237.99

Gemstone Earrings: 14K with Natural Gemstone Earrings set in 925 Sterling silver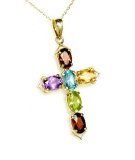 Multi cut Gemstone Earrings and Pendants and more..
Aquamarine & Garnet Gemstone Earrings & Rings
White Gold Silver Green Jade Gemstone Earrings
Wonderstarter Sweet Valentine's Savings on Gemstone Jewelry: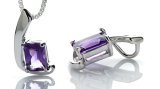 Cut Amethyst Pendant & (Rings, Necklaces) Gemstone Sterling Silver Jewelry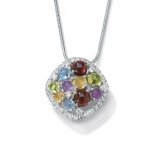 Stylish Multi-Gemstone Silver Pendant with white Gold