Des :
Ruby: Rubies are known for their intense red colour, and are among the most highly valued precious gemstones. Rubies have been treasured for millennia. In Sanskrit, the word for ruby is "ratnaraj", meaning "king of precious stones."
$237.99



Des :
Amethyst: Amethyst has historically been the most prized gemstone in the quartz family. It is treasured for its purple hue, which can range in tone from light to dark. Emerald: Emeralds are one of the three main precious gemstones (along with rubies and sapphires) and are known for their fine green to bluish green colour. They have been treasured throughout history, and some historians report that the Egyptians mined emerald as early as 3500 BC.
$237.99

Gemstone Earrings: 14K with Natural Gemstone Earrings set in 925 Sterling silver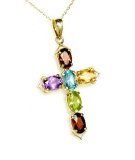 Multi cut Gemstone Earrings and Pendants and more..
Aquamarine & Garnet Gemstone Earrings & Rings
White Gold Silver Green Jade Gemstone Earrings
Wonderstarter Sweet Valentine's Savings on Gemstone Jewelry: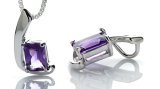 Cut Amethyst Pendant & (Rings, Necklaces) Gemstone Sterling Silver Jewelry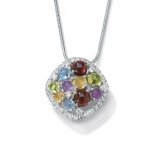 Stylish Multi-Gemstone Silver Pendant with white Gold