Des :
Quartz: Quartz refers to a family of crystalline gemstones of various colours and sizes. Among the well-known types of quartz are rose quartz (which has a delicate pink colour), and smoky quartz (which comes in a variety of shades of translucent brown). A number of other gemstones — like Amethyst and Citrine — are also part of the quartz family. Rutilated quartz is a popular type of quartz containing needle-like inclusions.
$237.99



Des :
Jewellery is sometimes seen as wealth storage or functionally as holding a garment or hair together. It has from very early times also been regarded as a form of personal adornment. The first pieces of jewellery were made from natural materials, such as bone, animal teeth, shell, wood and carved stone. More exotic jewellery was probably made for wealthy people or as indications of social status. In some cases people were buried with their jewellery.
$237.99

Gemstone Earrings: 14K with Natural Gemstone Earrings set in 925 Sterling silver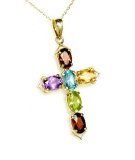 Multi cut Gemstone Earrings and Pendants and more..
Aquamarine & Garnet Gemstone Earrings & Rings
White Gold Silver Green Jade Gemstone Earrings
Wonderstarter Sweet Valentine's Savings on Gemstone Jewelry: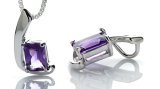 Cut Amethyst Pendant & (Rings, Necklaces) Gemstone Sterling Silver Jewelry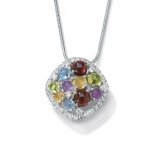 Stylish Multi-Gemstone Silver Pendant with white Gold