Des :
Jasper: Jasper is a gemstone of the chalcedony family that comes in a variety of colours. Often, jasper will feature unique and interesting patterns within the coloured stone. Picture jasper is a type of jasper known for the colours (often beiges and browns) and swirls in the stone's pattern.
$93.99



Des :
Most American and European gold jewellery is made of an alloy of gold, the purity of which is stated in karats, indicated by a number followed by the letter K. American gold jewellery must be of at least 10K purity (41.7% pure gold), (though in England the number is 9K (37.5% pure gold) and is typically found up to 18K (75% pure gold). Higher purity levels are less common with alloys at 22 K (91.6% pure gold), and 24 K (99.9% pure gold) being considered too soft for jewellery use in America and Europe.
$237.99

Gemstone Earrings: 14K with Natural Gemstone Earrings set in 925 Sterling silver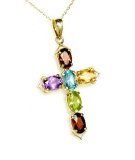 Multi cut Gemstone Earrings and Pendants and more..
Aquamarine & Garnet Gemstone Earrings & Rings
White Gold Silver Green Jade Gemstone Earrings
Wonderstarter Sweet Valentine's Savings on Gemstone Jewelry: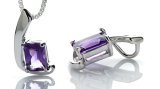 Cut Amethyst Pendant & (Rings, Necklaces) Gemstone Sterling Silver Jewelry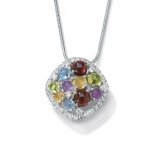 Stylish Multi-Gemstone Silver Pendant with white Gold